Prix à partir:
65€
Jour de la visite
les dimanches
Difficulty:
Intermédiaire
Tour description
Notre visite traditionnelle du dimanche en vélo de route est un moyen idéal pour commencer la semaine. De Los Cristianos, Tenerife, nous nous dirigeons vers l'intérieur des terres sur des routes douces vers La Camella, puis vers San Miguel et la première rampe d'essai jusqu'au Mirador de La Centinela. Après une courte halte de ravitaillement, nous continuons sur des routes vallonnées jusqu'à Granadilla. Ici, la montée propre à Vilaflor commence, serpentant à travers des forêts de pins parfumées sur 13 km avec une pente moyenne constante de 5%. Après une pause-café à Vilaflor, nous entamons une descente exaltante, retournant en boucle à San Miguel avant de redescendre directement à Los Cristianos.
** Le paiement peut être effectué en espèces ou par carte de crédit.es
Our traditional Sunday road bike tour is a perfect way to start the week. From Los Cristianos, Tenerife, we head inland up smooth roads towards La Camella, then on to San Miguel and the first testing ramp up to Mirador de La Centinela. After a short refuelling stop, we press on, over rolling roads to Granadilla. Here, the climb proper to Vilaflor starts, winding through scented pine forests for 13km at steady average gradient of 5%. After a coffee break in Vilaflor, we begin an exhilarating descent, looping back to San Miguel before dropping directly back to Los Cristianos.
** Payment can be made in cash or credit card.
Type d'excursion
Normal
We offer two types of tours a
Gran Tour
and a
Normal Tour
On our Gran Tour we offer items such as a full Canarian lunch emergency vehicle support and insurance. Which we do not offer on our Normal tour.
Carte d'excursion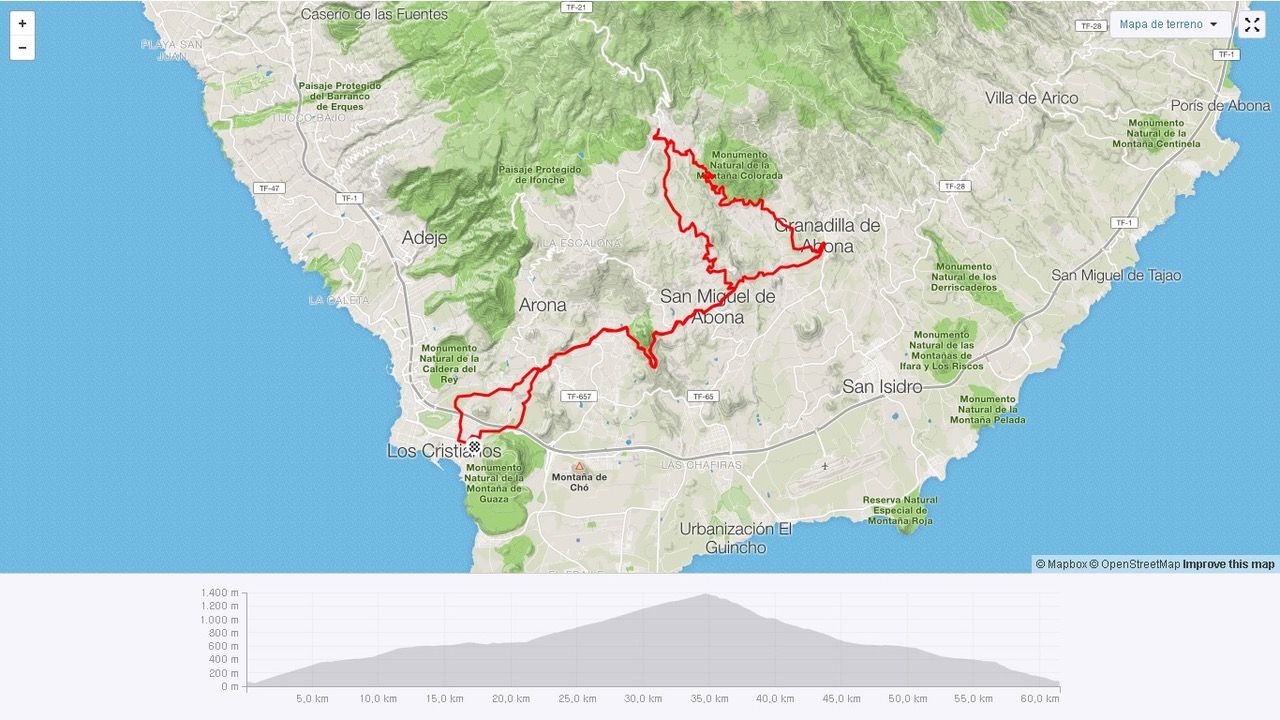 Tour détails
Prix
65€ (Without bike)*




90€ (Avec vélo)*
Observer: Paiement effectué en espèces au guide le jour de l'activité
Difficulté
Intermédiaire
Distance

:

62KM

Altimètres

:

1400M
Qu'est-ce qui est inclus?
Incluse
Briefing du pilote
Leaders chevronnés
Différents niveaux de conduite
Ratio personnel / client de 1: 4 ou moins
Coaching et conseils techniques si besoin
Fourgon de soutien
Sur la route Snacks et boissons
Assurance responsabilité civile
Non inclus
Transfert à l'hôtel (peut être demandé)