Bike Point Tenerife presents the new BMC Roadmachine 02 Ultegra Di2, with the most modern technologies applied  whilst resonating speed and beauty. The BMC Roadmachine 02 Ultegra Di2  is light, clean and incredibly integrated, looking for the maximum pedalling efficiency and the ideal absorption level for those epic pedalling days.
With BMC they have renovated their tuned compliance concept (TCC), and applied it to this bike, defying conventional bike ranges. The queen of the legendary classics, the Paris-Roubaix, is famous for the firm in which it is run, the dreaded pavé. The different sections of ragged and worn cobblestones require the maximum of both the cyclist and the machine. These hard terrains require the use of something even harder. The innovative solutions found in BMC to alleviate the beating that its professional cyclists have to endure have now been incorporated into this model.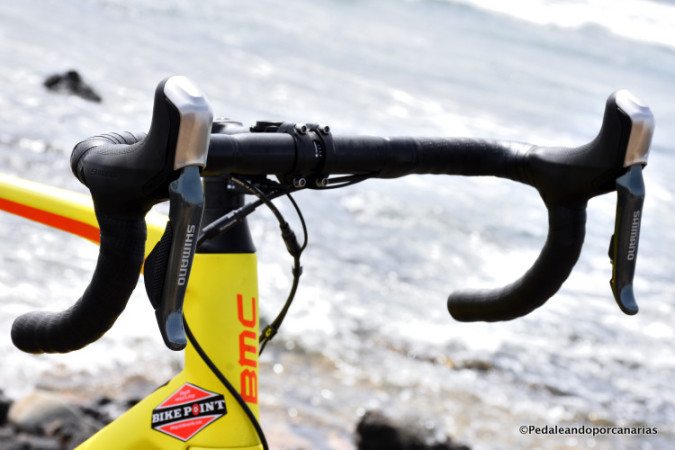 TCC (Tuned Compliance Concept): a system that makes flexibility and stiffness work together so that the maximum balance between rigidity and vertical flexibility is achieved. Vertical flexibility is a term that refers to the bending level of the picture of a bicycle. In combination with stiffness, it can consume up to 15% of the energy of a cyclist. The tuned compliance concept focuses on minimizing this impact by leveraging the know-how and experience gained from years of bike design, creating the perfect balance between comfort and performance to shape fast, error-forgiving solutions.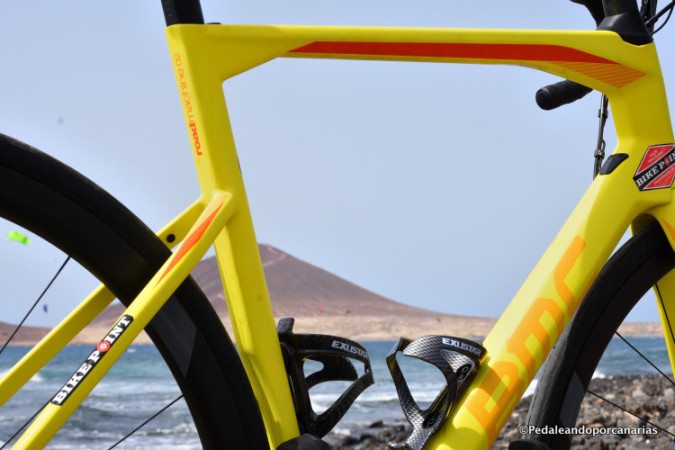 Active suspension is not a typical feature of road bikes. But all the pictures of bicycles and forks have bent, and also the spokes, rims, seatposts, saddles, handlebars and powers. BMC works with the introduction of thin and low straps, asymmetrical rear dropouts, carbon fork toe and a redesigned seatpost so that the frame will flex vertically, maximising what they call "angle compliance". Thus, the annoying sensations during an outing, such as the shocks and vibrations of the stones, are not transferred directly to the cyclist's body.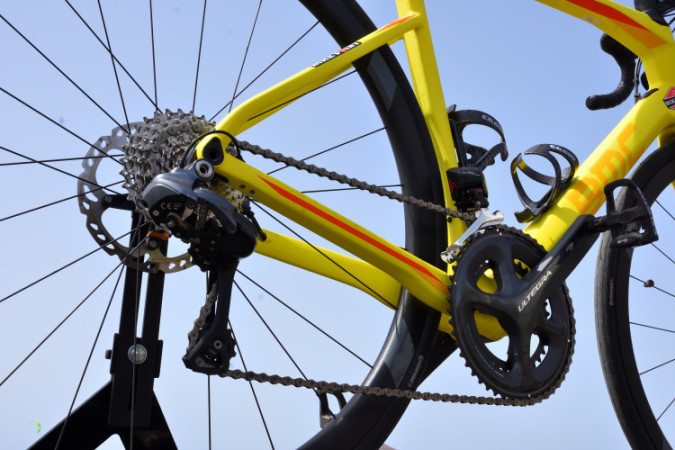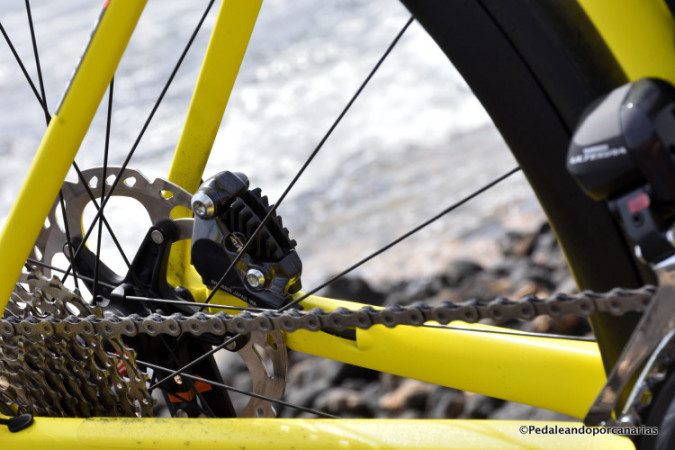 The diagonal tubes, steering tubes, rear pods and larger fork bridges are combined with high modulus carbon fibres to increase the stiffness of the structure. This improves the efficiency of the cyclist's energy transfer to the bicycle whilst pedalling. It's not just that, it also improves torsional stiffness by making handling more intuitive, lighter and more accurate.
But a painting is as good as its components are therefore using the system dual transmission integration – DTI –, exclusive to BMC. The DTI system allows the cables to be guided so that it can be easily changed between mechanical and electronic changes. This will give you total freedom when it comes to choosing Exchange groups. Applied to all our new road frames, integration is clean and without any loss of aesthetic or aerodynamic performance. Elegance, but with maximum performance.
Technical Details
Frame: Roadmachine 02 – Tuned compliance Concept
Tubes: TCC 02 Carbon, Angle Compliance technology
Sizes: 47/51/54/56/58/61
Fork: Roadmachine 02 Carbon, disc-specific
Marches: 2 × 11
Dishes: Shimano Ultegra, 50-34t
Cassette: Shimano Ultegra, 11-32t
Chain: Shimano Ultegra
Derailleur: Shimano Ultegra Di2
Derailleur: Shimano Ultegra Di2
Shift Levers: Shimano St-R785 Di2, hydraulic
Brakes: Shimano BR-RS805 w/SM-RT81-SS 160 discs front/140 back
Handlebar: BMC Rab 02
Power: BMC RSM 02
Seatpost: Roadmachine 01 "D" premium carbon, 15 mm offset
Saddle: Fizik Alalia Delta, win
Hubs: 3t Discus C35 Pro, with through-axles (12 mm)
Rims: 3t Discus C35 Pro
Tyres: Continental Grand Sport Race SL, 25 mm
Colour: Yellow
Hire this bike and many other at Bike Point Tenerife