Pueblo de Masca E-bike Tour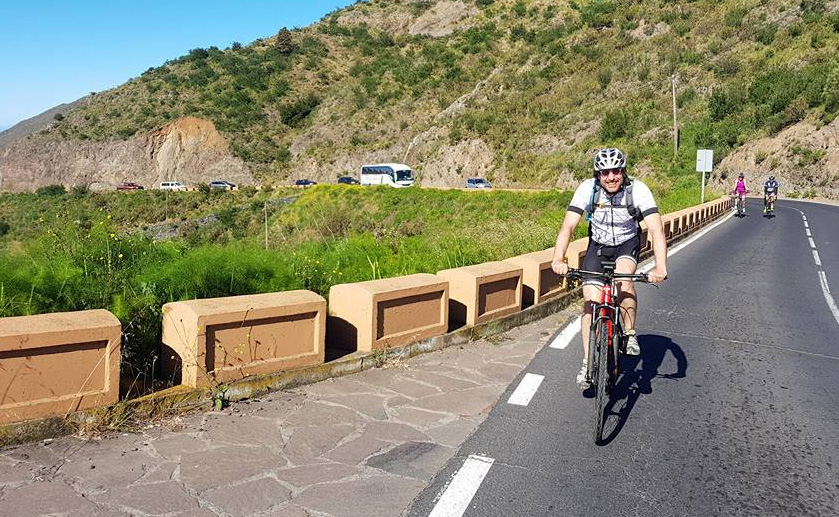 Prijs vanaf:
65€
Excursiedag
Woensdag
Difficulty:
Gemiddeld niveau / Vooruitgangsniveau
Toer beschrijving
Onze Masca Tour, door het hart van het Teno-gebergte, is een must! Beginnend in Tamaimo, klimmen we richting Santiago del Teide en El Tanque terwijl we een adembenemend uitzicht op de noordkust, Garachico en Puerto del la Cruz zien. Vervolgens slingeren we langzaam onze weg naar Buenavista del Norte in de noordwestelijke hoek van het eiland voordat we de hoofdklim van de dag opgaan in de majestueuze Masca! Eenmaal hier kun je ervoor kiezen om voor de lunch in de bus te springen of ´The Wall´ (3,5 kilometer / 400 meter) te beklimmen en Chio! Na de lunch freewheelen we 30 kilometer terug naar Las Americas!
Our Masca Tour, through the heart of the Teno Mountains, is a must do! Starting in Tamaimo, we climb towards Santiago del Teide and El Tanque whilst witnessing breathtaking views of the north coast, Garachico and Puerto del la Cruz. We then slowly snake our way towards Buenavista del Norte in the north west corner of the island before taking on the main climb of the day towards majestic Masca! Once here, you can choose to either to jump in the bus or climb ´The Wall´ (3.5 kilometres/400 metres) before lunch and Chio! After lunch, we freewheel 30 kilometres back to Las Americas!
Soort excursie
All Inclusive
Our All Inclusive tours ensure that you will get the most out of your tour experience with Club Activo. You can choose your speed, level, start point and even your bike type! Our tours are perfect for riders of different abilities wanting to ride together on the same tour! We´ll manage the tour in such a way that the stronger/faster riders will climb more metres and cover more distance (without having to wait for intermediate riders) and the intermediate riders can ride at their own speed (without the pressure of having to keep up)!
Tour info
Prijs
65€ (Zonder fiets)*




105€ (Met fiets)*
Observeer: Betaling kan geschieden in contanten of met een creditcard, behalve op woensdag, waarbij de coördinator van die dag alleen creditcards voor die specifieke tour kan accepteren.
Moeilijkheidsgraad
Gemiddeld niveau
Afstand

:

50-70KM

Hoogtemeters

:

800-1200M
Vooruitgangsniveau
Afstand

:

90-110KM

Hoogtemeters

:

1600-2000M
Wat is inbegrepen?
Inbegrepen
Pre tour briefing to ensure you will ride at the level to suit your ability
On-the-road tour guide, full vehicle support and supplies including home-made bar, bananas and water!)
2 levels available for each tour (varying in start point, distance, climbing metres and speed)
3 course lunch at the Club Activo Cycling Café (other than Masca when we´ll eat in Santiago del Teide) including hot soup and bread, chicken with potatoes and salad and coffee for example. Vegetarian and vegan options also available!
Friendly, knowledgeable guides who will ensure you have a great tour experience!
Typical Canarian lunch or tapas included (in our very own cycling café)
Return hotel transfers available (contact us for details).
Aansprakelijkheid verzekering inbegrepen
Observeer
Private tours can be organised outside our regular schedule
We will meet at the back of the Bike Point shop in Las Americas at 08.45 or we can collect you (and take you back after) subject availability. We can also collect you from the harbour bus stop in El Medano for no extra charge!