When it comes to protecting the eyes during sports practice one brand stands out over the rest, they are Oakley. The American firm has been manufacturing sports glasses since 1980 and in 1984, specific models for cycling were popularised by Greg LeMond.
Oakley's designs stand out for the high protection they offer in case of impact. All lenses are tested for impact according to ANSI standard for industrial products. Tests consisting of testing resistance to impact against heavy objects at low speeds and resistance to impact against light objects at high speeds.
The lenses are also characterised by offering great optical clarity and  good view from any angle. But also the treatments they receive are specific for each sport. Thus, those destined for cycling seek to offer a greater field of vision, without the spectacle mount interfering with the angle of vision of the cyclist, as well as an improvement of the colours to maximise the contrast and to improve the visibility.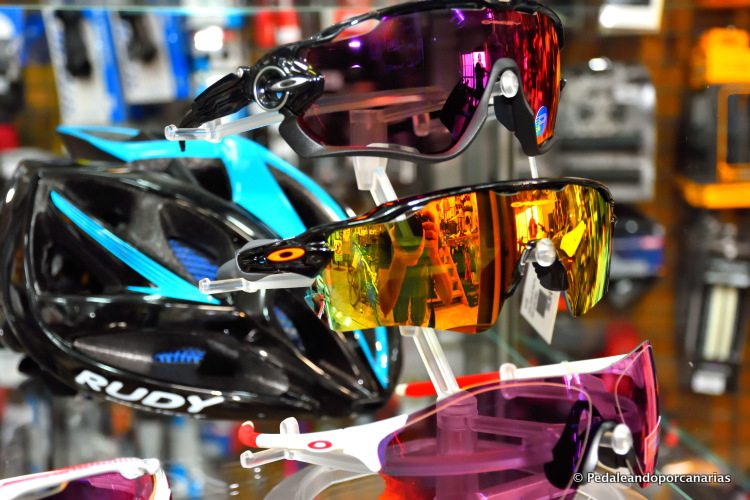 The technologies used by Oakley include:
High Definition Optics
HDO ® is a collection of patented technologies, which allow Oakley optics articles to exceed the American National Standards Institute's laboratory testing standards in terms of optical clarity, visual fidelity and impact resistance.
Prizm
It is a new Oakley lens technology that hones your vision for specific sports and environments. Prizm ™ lenses offer unprecedented light transmission control that results in accurately tuned colors to maximize contrast and improve visibility.
SwitchLock
In order for the lens change process to be quick and smooth, this technology uses a simple switch mechanism to release the lens mounted so that the new one can be locked immediately. It allows athletes to adapt their vision and adjust to light changes.
Polarized
Oakley hdpolarized lenses reject 99% of reflected glare without fog or optical distortion that can accompany Polarized lenses manufactured with conventional manufacturing techniques, improving safety, comfort and performance.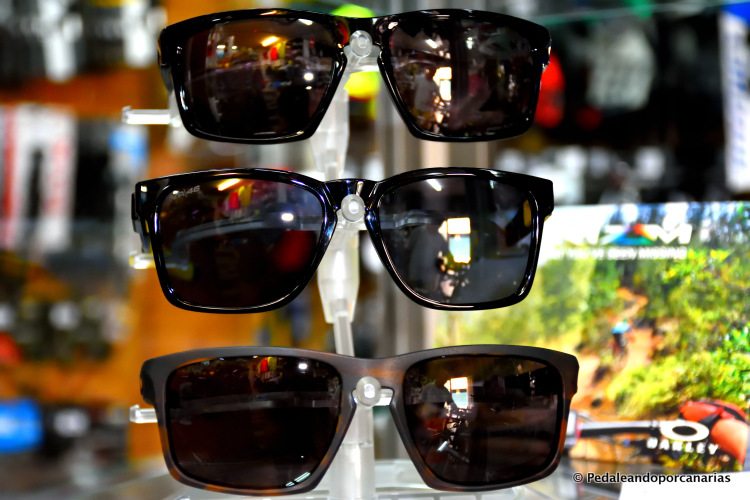 In the Bike Point Shops in El Medano and Las Americas you can find a wide variety of models of Oakley goggles, not only for cycl g, but also for running or sun for day to day.
Jawbreaker ™ Prizm ™ Road: Jawbreaker ™ is the latest in sports design, it is the answer to the demands of athletes from all over the world . Oakley's innovation has reached new heights by offering from regulatory openings for cooling air flow to Unobtainium ® components for safe and convenient fixation, and with seamless lens change from Switchlock ™ technology to optimise vision for any environment.
Radar EV Path PRIZM ™ Road Tour de France Edition: A new milestone in performance heritage, Radar ® EV takes the innovations of a revolutionary design even further, with a higher lens extending the higher field of view. From the comfort and protection of the O Matter ® mount to the grip of its Unobtanium ® components, this premium design is based on the innovation and style of the radar. Designed to facilitate air movement and optimum ventilation.
Flak ™ 2.0: The Flak 2.0 model is characterized by a standard-sized mount with a more advanced field of vision in the lenses, in which each millimeter is optimized by High Definition Optics ® technology in a lightweight, torque-resistant design. It has been created to surpass the limits of the patented XYZ Optics ® with unrivalled visibility and adherence to the Unobtanium ®.
EVZERO Prizm ™ Road: EVZERO ™ glasses combine the lightest frame of our range with the unsurpassed vision of the Plutonium ® lens that offers you a broader vision that protects 100% of UVA/UVB/UVC and blue light up to 400nm. Includes three-point fit technology keeps optically aligned lenses and eliminates pressure on the ears, Unobtainium ® rubbers and the lightweight, sturdy O Matter ™ that provides comfort and protection for your day-to-day life.
Sliver ™ XL Polarized: a sleek, even lighter design with sculptural reliefs on the sideburns, Sliver ™. The lightweight, rugged, or Matter ™ Mount offers comfort and protection for your day-to-day life. With the height of the magnified lens for larger head sizes and those who want an expanded field of vision down.
You can see these and other models in the Bike Point Shops in El Medano and Las Americas, where you will receive the best advice to choose the model that best suits your needs. You won't regret it, as Oakley goggles give everything they promise: first-class materials, innovative design, maximum protection, absolute lightness and finishes that have made this brand a reference in the field of sunglasses.